A poetic painting
04/08/2022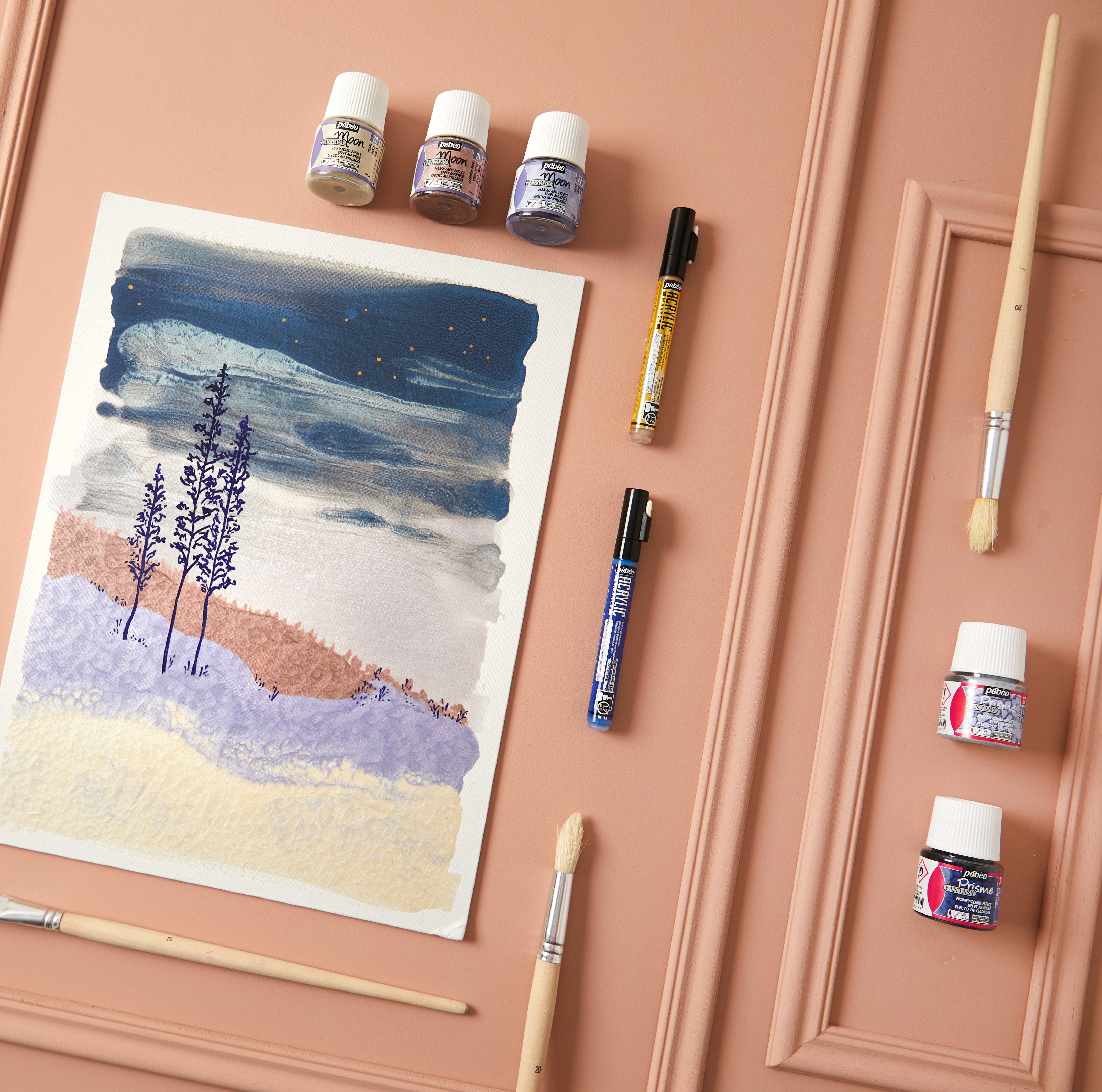 Mix different techniques to create this poetic landscape that fuses Fantasy paint and Acrylic markers.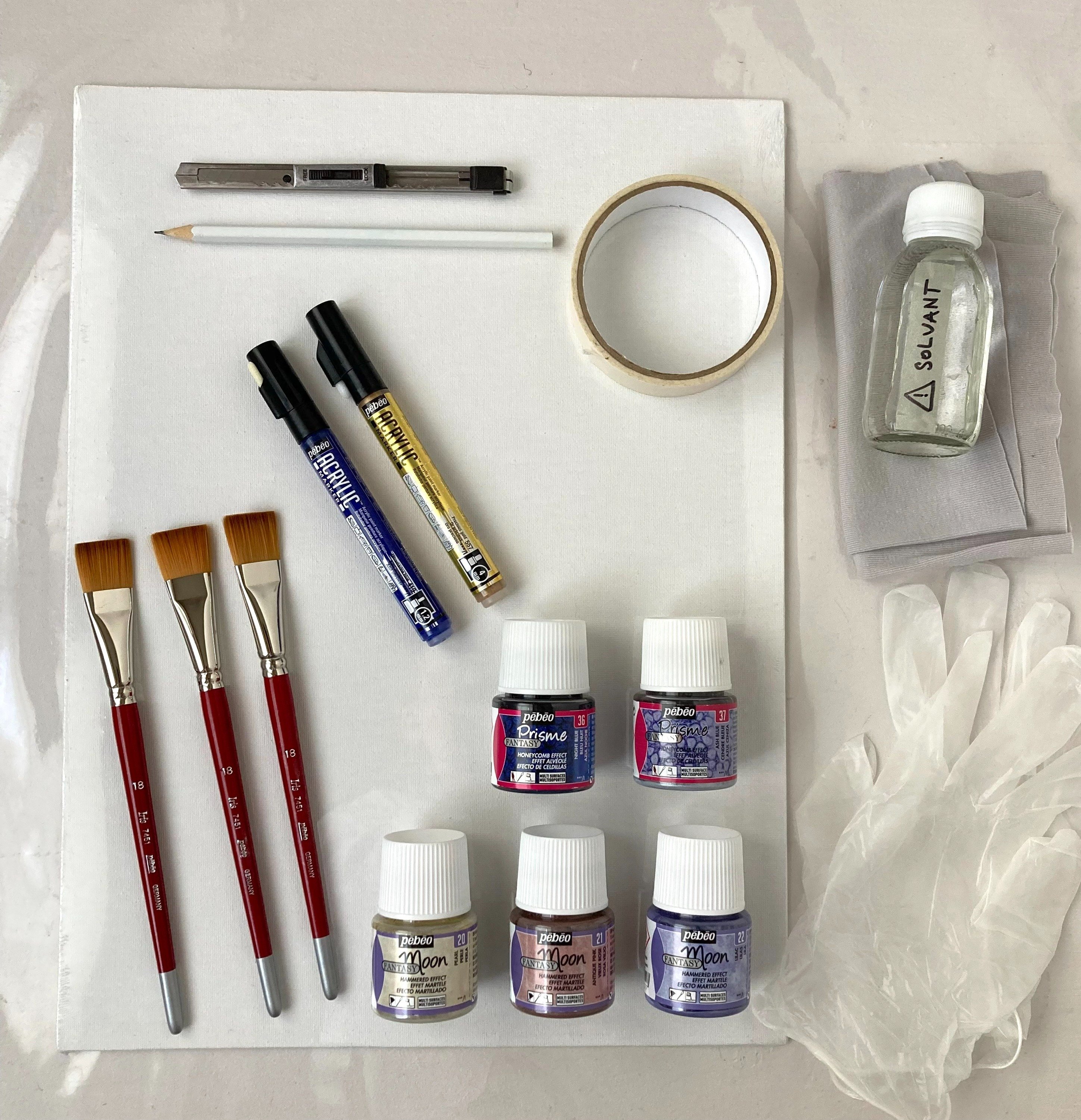 Materials :

Canvas-covered cardboard 30 x 40 cm

Fantasy Prisme in Midnight Blue 36 / Ash Blue 37

Fantasy Moon in Pearl 20 / Lilac 21 / Antique Pink 22

Acrylic Marker Ultramarine Blue 419 1.2 mm / Precious Gold 557 4 mm

Flat brush no. 18

A pencil / a cutter / painter's tape

Solvent - white spirit or similar

Plastic protective cover / protective gloves / cloth
Difficulty Level :

Difficulty: Medium


Time to make: Painting the sky 1 hour / drying time 24 hours / painting the earth 1 hour / drying time 72 hours / drawing trees 1 hour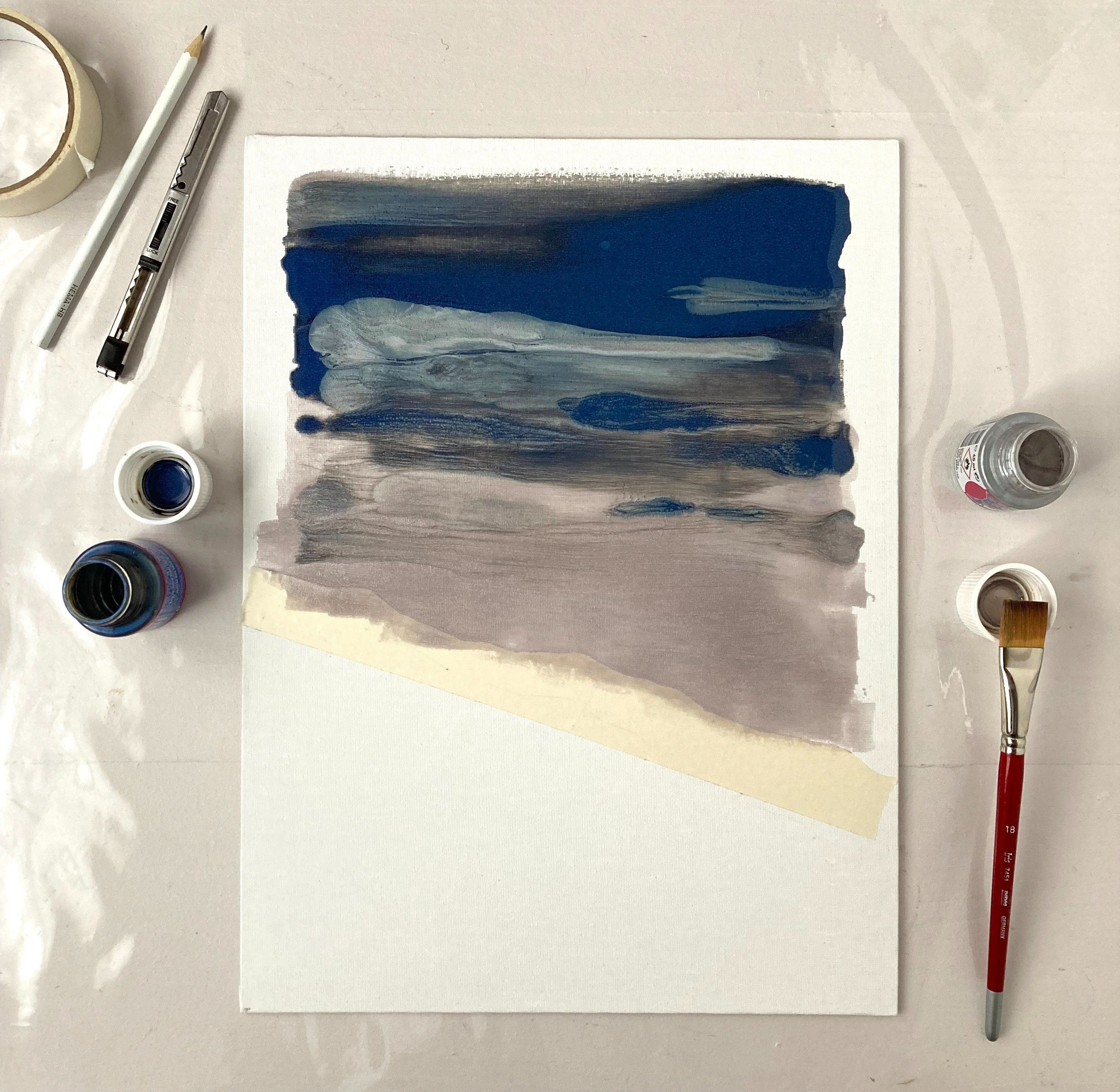 Use the painter's tape to delimit the sky area. Stick the tape in place, draw an irregular line and lightly cut along this line with the cutter. Remove the tape on the sky side.

With the Fantasy Prisme paint, draw the night sky.

Start with the Midnight Blue at the top, pouring the paint directly on to the canvas and spreading it with a brush in a thick layer. Then, do the same with the Ash Blue colour at the bottom of the sky, bordered by the tape. Then pour drops of blue onto the light part, followed by Ash Blue onto the blue to create clouds. The thicker the paint, the more the honeycomb effect will appear as it dries.

You can also use a brush to accentuate a movement or mix the colours.

Allow to dry flat for 24 hours, away from dust.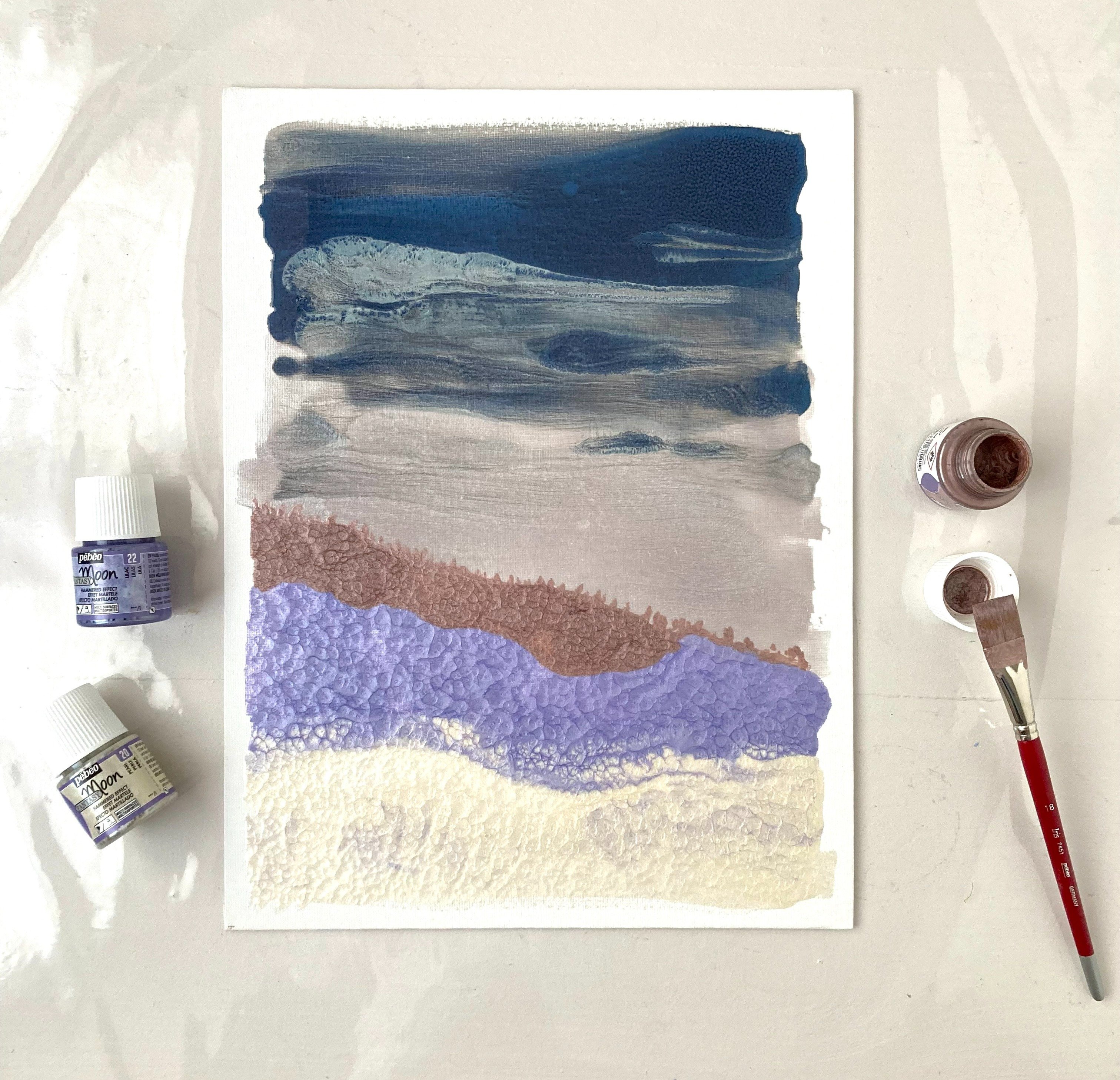 When the paint of the night sky is well set, remove the tape.

With the Fantasy Moon paint, draw the earth part, creating stripes with the 3 colours: Pearl at the bottom, then Lilac and finally Antique Rose which comes up to the edge of the sky. You can create well separated bands if you like, or make the colours meet by pouring one colour into another so that they run together. Work in thick layers so that the hammered effect is clearly visible, and drag the paint with the brush to create layers.

Use the brush to draw small strokes of grass with the Antique Rose colour that touches the sky.

Leave to dry flat in a dust-free environment for 72 hours (or until fully dry).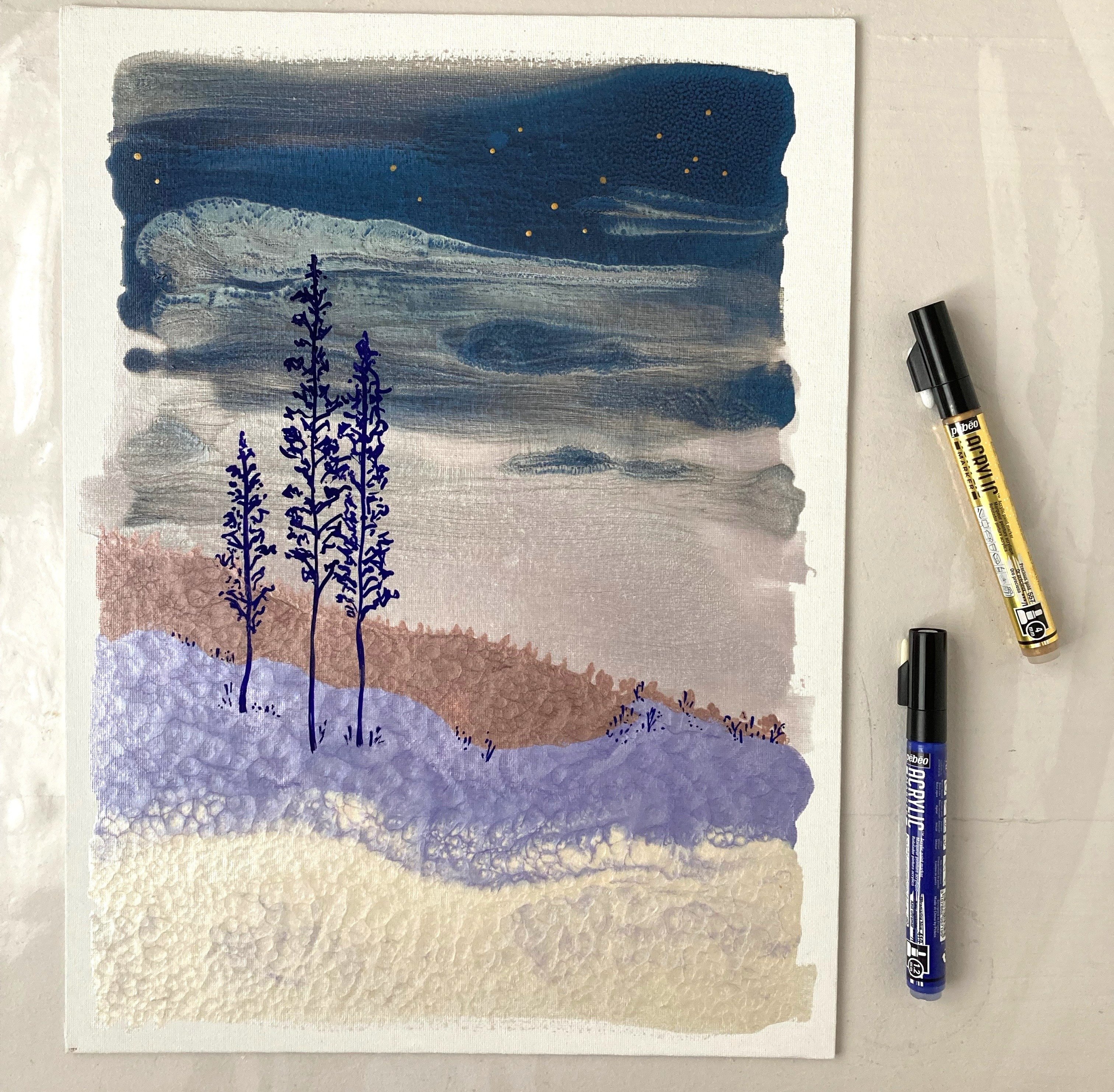 When it is completely dry, use the Acrylic Marker in Ultramarine Blue to draw silhouettes of trees, taking inspiration from our model. Then draw stars in the sky using the Acrylic Marker in Precious Gold by creating small, irregular dots.

Leave it to dry for 15 minutes.