pébéo urban art award: meet alberto ruce
Pébéo Urban Art Award: meet Alberto Ruce
16/06/2021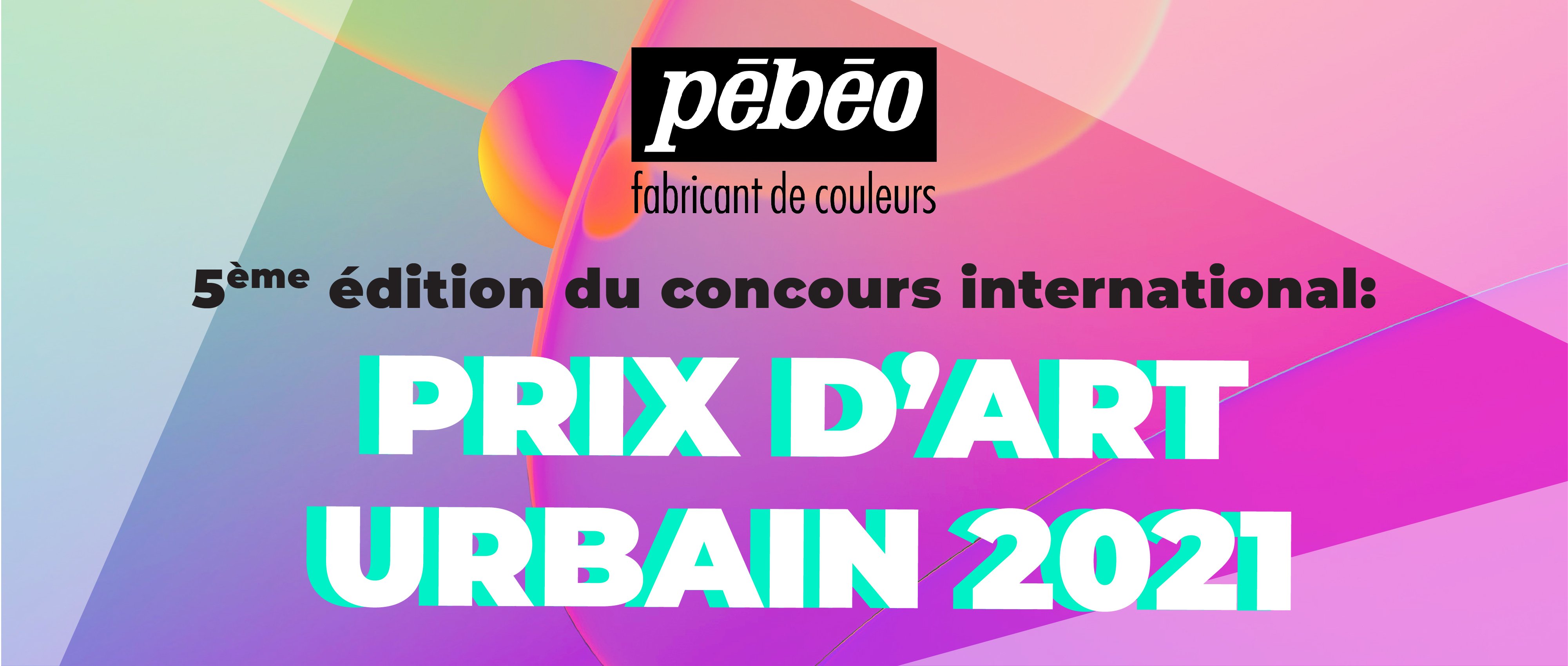 On the occasion of the 5th international Mixed Media competition held by Pébéo, we meet Alberto Ruce, the winner of 2nd prize;

Can you introduce yourself and tell us your artistic practice?
Alberto is my first name, Ruce is my blaze acquired on the street. When you paint on the street, you sign with your blaze (to be anonymous), my friends and people in the community ended up calling me Ruce. My blaze associated with my first name became my artistic identity: Alberto Ruce. I started by painting letters at age 13/15, and I created my first graffiti on the walls of my school. It was something I had seen when I was going into town and wanted to replicate. I come from a small town in southern Italy. There was nothing in the area that looked like a tag or graffiti, so I figured it out slowly. I gradually discovered hip-hop culture and I understood what graffiti, breakdance, and rap was. In 2009, I moved to Paris and encountered a profusion of artistic worlds, graffiti, street art, contemporary art, etc. that overwhelmed me. I began to develop my letters in 3D, in objects, then over the years the letters disappeared, and I have increasingly taken the path of figurative and painting. Now, I can describe myself as an urban painter who works on the street. In the studio, I spend a long period of time studying colour and shapes and the idea, and then transfer this work onto walls. Other times, I take inspiration from the street for my studio work, which I materialise on paper, on canvas, and wood. One way or another, I remain highly attached to the spirit of graffiti, to finding abandoned places to paint, to finding walls onto which to paint my pieces while walking around the city.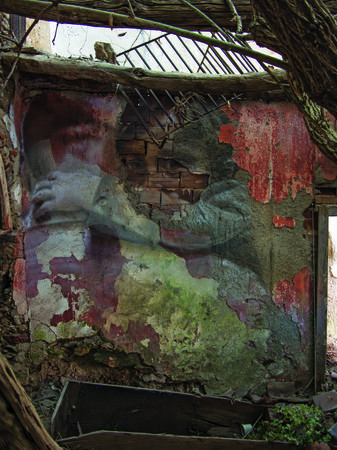 What do you seek to express through your work?
What I want to communicate to others is the fact that we frequently find ourselves in situations of superficiality, emotional superficiality, superficiality of sensory perception. I think that superficiality might lead us to disappear as empathic individuals. We are often so busy with our problems that we forget everyone around us. Through my paintings I would like to show that, due to lacking interest, we miss out on intense and major things, and to remind us that there is a world around us that we risk losing.
Who are the people represented on your walls? What are your inspirations for these portraits?
I like to represent people and situations that I know, that are familiar to me and for which I feel something. For the most part, the portraits I paint come from my photographic work. I especially like to represent intense emotions, I like the contrast between a very delicate painting and a very strong subject. Recently, my subjects have been moving toward exploring something that is dear to me: the rural world, with pastoral scenes linked to the relationship between man and nature, with peasants who still work the land and its resources naturally, in addition to animals. It is a world that fascinates me and to which I feel a connection.
Does your work have a direct connection with the place in which you are working?
When I paint on the street, I often refer to where I paint, whether it is illegal or legal work, it doesn't matter, I like to refer to where I work. I think that in this way, the painting produces more intensity, the graphic act takes on a different value. It is not just a matter of painting out of necessity, but it becomes another means of communication. Painting a certain image at a specific location can have a much more intense strength than painting the same image at another location. Sometimes that is not always feasible; I just want to paint what I like, communicating a more general message. I do not necessarily find an intrinsic reference to the place, but it does not matter because we cannot always create the situations that we like. Sometimes I just need to find a wall that has a noticeable crack to see an image there. This is enough in order to be able to communicate with the setting and paint an image perfectly linked to the architecture.
Meeting with the public, passers-by and residents is important to you. Have you had an exchange or encounter that was particularly important to you?
Meeting the public is often stimulating, for me it is almost indispensable. At festivals, I do not always have the opportunity to discuss and interact with people. Yet I find that listening to the opinion of people who live in the neighbourhood, exchanging with them, is really the "plus" that this discipline can bring. The most rewarding thing can be a comment from a kid, the approval of an elderly person, you feel as if you were in the right place at the right time, as if something interesting was being done for the community. I have had a lot of meetings on the street, I can recount many. One that comes to mind concerns a wall that I had decided to work on without being a commission or as part of a festival. This encounter led me to change my subject. On the eve of painting a wall, I will prepare to welcome the work. On that day, a bystander residing in the neighbourhood, to whom I showed my sketch from a photo I took from a statue of a nearby church, told me that he did not want to see a sacred image every day. I understood it right away because I am agnostic, so I decided to change my image and choose another one that I liked. When painting it the next day, I realised that the image was perfectly suited to the cracks in the wall. It is a piece representing two people, two lovers, kissing, and it turned out to be the most appropriate image for this wall.

What motivated you to apply for the Urban Art Award?
It is a competition that blends a great brand that I know well because I often use Pébéo acrylics, and an urban art institution, Fluctuart. I was initially very keen to show them my work. I am honoured that they liked them enough to have been selected.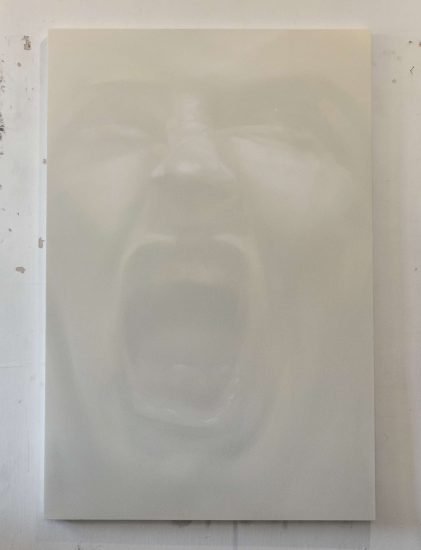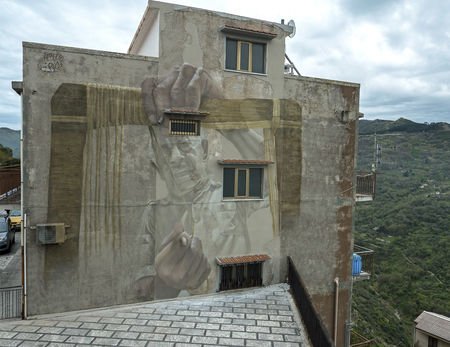 You made your first personal exhibition in France in October, do you have any other upcoming plans or special desires for the future?
After this exhibition held by Art'Murs, I hope to be able to present others in Paris but also outside France. One of my projects, which I hope will be come about within a year, is the release of the documentary related to my project Transumanze. I created it in partnership with the videographer/director Carla Costanza. Together, we researched the abandonment of small villages and popular customs in Sicily. During this research, I painted on buildings in ten small Sicilian villages in 2019. I represented popular customs of the Sicilian hinterland that are slipping away or are already lost. We have just signed with the production house Cocoribou Films. The documentary is currently undergoing the most difficult and longest phase: post-production. In the meantime, I have been invited to take part in various festivals this spring. Keep your eyes peeled... You can find further information on Alberto Ruce's
website
.