pébéo-fluctuart urban art award: hurdequint
Pébéo-Fluctuart Urban Art Award: Hurdequint
20/07/2022
On the occasion of the 6th edition of the International Competition organised by Pebeo, meeting with Hurdequint
Could you introduce yourself and describe your artistic practice?
I have been a lover of skateboards and art since I was a teenager, so in 2011 I decided to create The Daily Board, the first blog about skate art. One thing led to another and the project went from digital into a book, the anthology ''SkateArt: from the Object to the Artwork", which is now distributed around the world, notably in prestigious museums in New York such as MOMA and the MET. After this, I began to organise exhibitions around my passion in Lyon and Bordeaux. First "Inking Board", where I had skateboards inked by tattoo artists, then "Spraying Board", with street artists. By coming into contact with all these artists, I developed my desire to move to the other side of the brush. Since 2020, under the name Rom av.JC, I create antique jugs from broken skateboards. By placing skateboarding at the heart of gladiatorial combat or among the events of the original Ancient Olympic Games, I attempt to rewrite the history of this sport.
What do you seek to express through your work?
Since the creation of The Daily Board, my intention is to show the world all the creativity that occurs around skateboarding and art. By using only skateboards for my works, the idea is to continue in this direction while offering something new. I've been fascinated by the Greco-Roman world since I was a kid and I thought "why not make it look like skateboarding existed at that time?" The Greeks and Romans invented so many things, some of which have probably been lost, so why not skateboarding?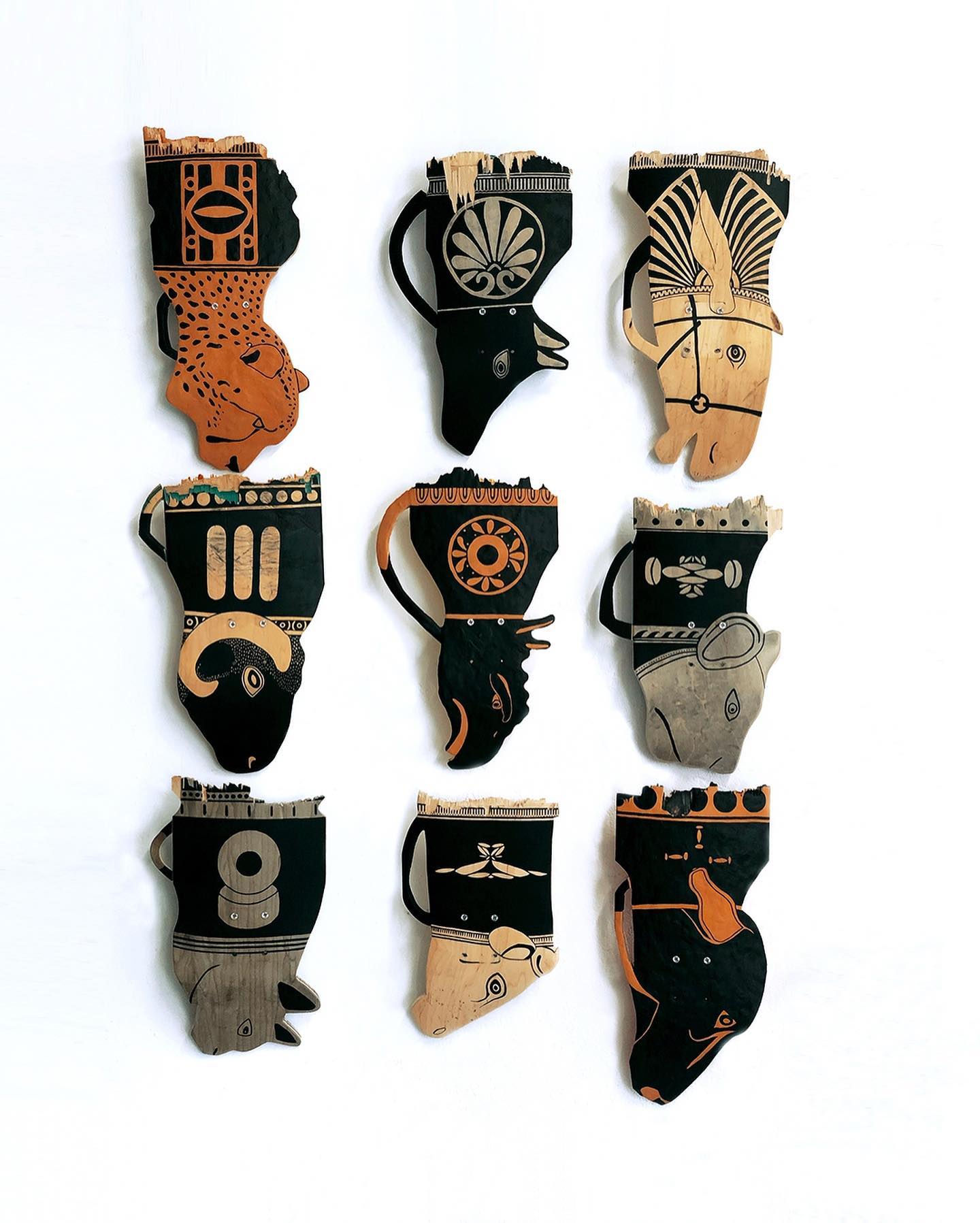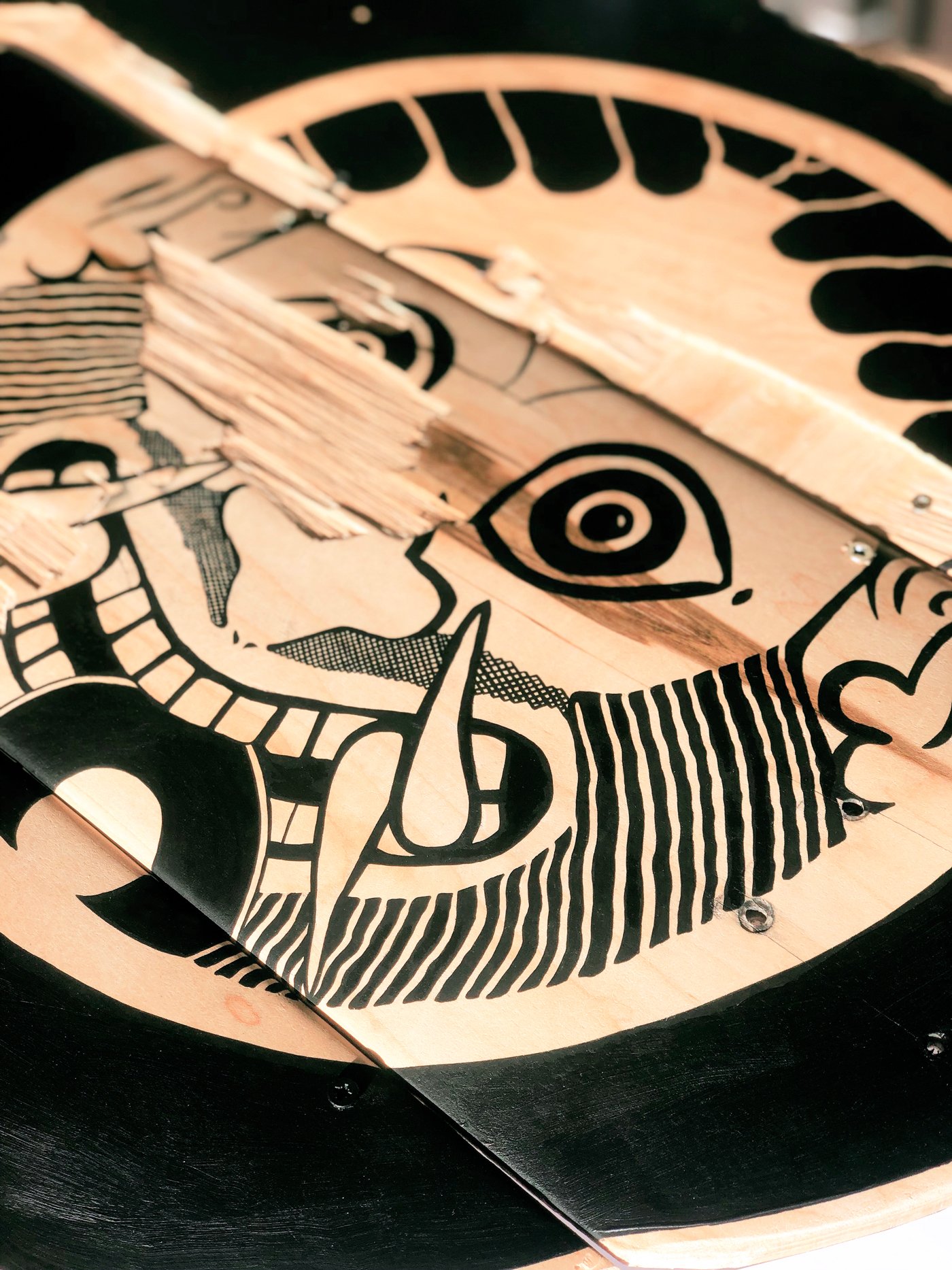 What are your sources of inspiration as an artist?
First of all, I am naturally influenced by the ancient Greco-Roman world. I try to visit as many ancient museums as possible to discover as many shapes, patterns, colours and illustrations on ceramics as possible. I analyse mosaics and sculptures. When I paint, I listen to a lot of audio about the Roman Empire. It's really fascinating. They invented so many things that we still use today! On the other hand, I also look at a lot of artists who come from places that are completely different to mine. To name but a few, I really like the work of Felipe Pantone, Joshua Vides, Martin Ander, Juan Diaz-Faez, Mister Tucks and Greg Gossel.
) Is there any exchange or encounter that has been particularly important to you throughout your career?
I would say that my most significant encounter was with the artist Yandy Graffer. His energy, vivid imagination and talent have greatly influenced my desire and the way I create my work. We love working together and I learn a lot from him every session. Yandy is also a winner of a previous edition of the Urban Art Prize.
What motivated you to apply for the Urban Art Award?
I am a fan of Fluctuart and the idea of being able to be exhibited there was incredible. So when I saw that the applications for the new edition were coming up, I thought, why not give it a go! In fact, I created my work especially for this event.
Can you tell us about the work you presented for the award?
"Genesis Manus Ululatus", or The Genesis of the Screaming Hand, is a legend that I wanted to illustrate. It is important for me in my art to pay tribute to skate culture, so I wanted to pay tribute to its most famous illustrator: Jim Phillips. He created the Santa Cruz Screaming Hand that everyone knows. And I was told the story of its origin, or rather the myth, since I couldn't verify if it was true: the artist reportedly saw a man drowning on a Californian beach where he was walking. He was screaming for help and only his hands and face were sticking out of the water. The drowning man was saved, but it made the artist think a lot once he got back to his studio and he started to draw the famous screaming hand. As I like working with vase shapes, from 8 broken skateboards I created what is called a krater, a jug that was used to mix water and wine.
What products from the Pébéo range did you use for your work?
For my work, I used Ivory black Studio gouache. I'm used to working more with acrylics, but here I wanted a more irregular and slightly brighter finish.