pébéo-fluctuart urban art award: salvaje selva
Pébéo-Fluctuart Urban Art Award: Salvaje Selva
20/07/2022
On the occasion of the 6th edition of the International Competition organised by Pebeo, meeting with Salvaje Selva
Can you introduce yourself and tell us your artistic practice?
I'm Salvaje Selva, an urban artist and researcher of contemporary mural painting techniques. My work is influenced by many types of art. In fact, you can find textures typical of organic abstraction, gestures and graphics typical of gestural or informal painting, effects and ways of using spray paint characteristic of graffiti, notions of colour more typical of classical painting, or compositions that incorporate sharp cuts and empty spaces more typical of geometric abstraction or digital art.
What do you seek to express through your work?
My work is based on the belief that painting is an independent language and a true means of expression. For me, painting means confronting the unknown, coming into contact with a source of knowledge, cultural heritage. I work on the basis of concepts such as texture, colour, rhythm, form or movement, in search of strong images with which I identify and which express my relationship with painting. I try to keep learning all the time, to look for new paths and to perfect my techniques. The more knowledge you have, the more possibilities you have and the wider your creative horizons, although, in order to go further and not get lost, you need certain limits. That is why I focus on exploring the textures that mural materials, such as spray paint, paint guns or different types of rollers, can offer. I'm also very interested in mural paintings, because they interact with the environment and generate a dialogue with spaces that already have a notable aesthetic charge.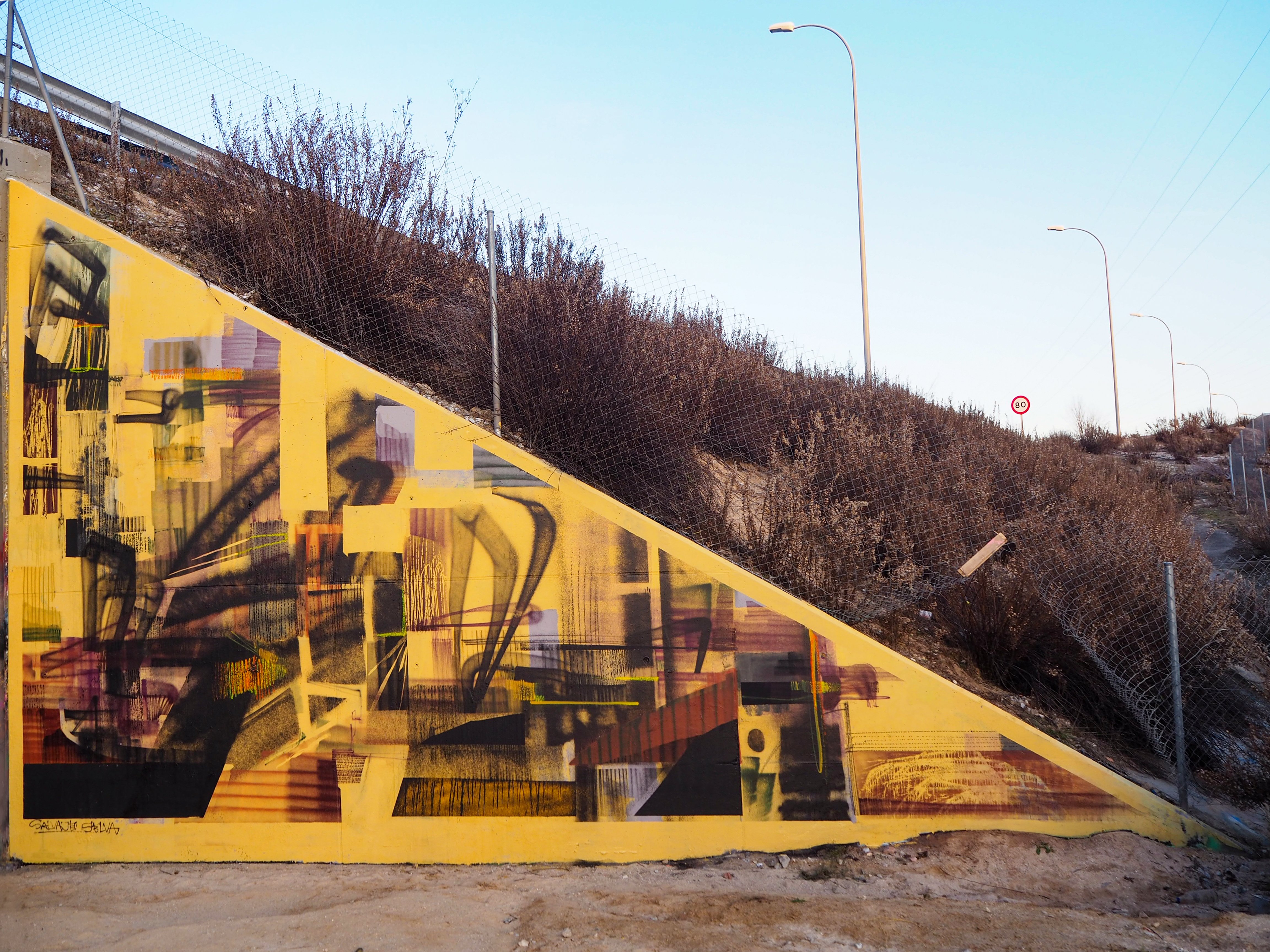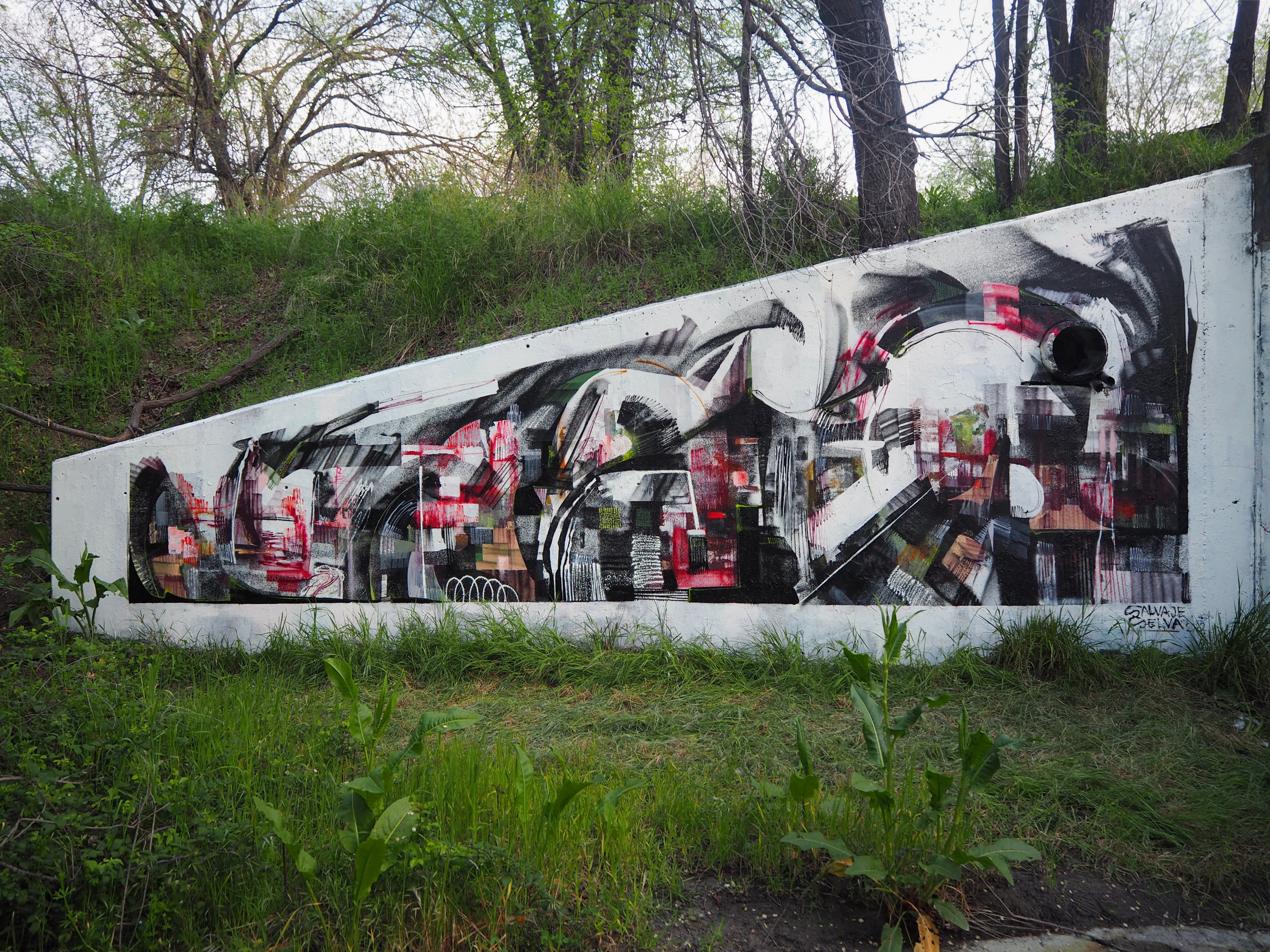 Who are the people depicted in your paintings? What are your inspirations for these portraits?
As I explained previously, my work is essentially abstract. At times, I've made versions of classic paintings interpreted through abstraction, and, sometimes, you can see a human figure, but I try not to make the face all that visible, because my intention is for the colour and stain (the language of painting) to prevail over recognisable shapes and objects. Otherwise, a literal image would greatly condition the interpretation of my work, leading the reading of the work into (perhaps more narrative) territories that don't interest me as much.
Do your works have a direct link with the places where they are made?
Of course, the wall shapes my painting a lot, because I see frescos as a dialogue with the support, which, in this case, is a connoted space. Most ideas come to me after researching where I'm going to develop my piece. In some instances, it's wise to play around with the textures that can already be found on site, or even to incorporate objects from the environment in the form of an "installation". Plus, when murals are made, they are sometimes vulnerable and become ephemeral interventions, because they are in the public space. Often, the only evidence that remains is the photo itself. In these photos, we can appreciate the very special relationship between painting and the environment, and I think that, in many cases, the environment gives us the key, and gives meaning to the work.
Meeting with the public, passers-by and residents is important to you. Are there any conversations or encounters that had a particular impact on you?
I just love ruins and abandoned spaces. I prefer quiet places where there is little human presence to painting at events full of excitement. Painting requires concentration, and it's sometimes difficult to concentrate if there are too many external stimuli. However, while painting in the street, I have met many interesting people, from urban artists who I consider close friends to photographers and street art enthusiasts who roam the city, looking for fresh material.
What made you want to apply for this urban art award?
Well, a lot of my friends are urban artists. We send invitations to each other. A friend told me about it and sent me the conditions. I read them carefully, it seemed like a good opportunity to show my work and I wanted to give it a shot.
You put on your first personal exhibition in France in October. Do you have other projects planned or that you would like to see realised in the future?
Well, I participated in an art exhibition in Paris with a Spanish gallery in January, and it was my second time. Unfortunately, I've never had the opportunity to visit the city myself. It was a very intense year. I prepared an exhibition of studio works for Montana SHOP Madrid, I participated in several festivals and received some interesting commissions and proposals. In August, I'm going on holiday to Mexico. I hope I can paint a lot, learn from the environment and be inspired by the change of scenery. I've applied for mural project contests for the end of the summer, but I don't know if I'll have any luck. However, I'll continue to paint and learn, and, now that I have three-day weekends, I'll try to travel and do collaborations with friends.